The new
IKEA catalogue
is out and for me, that is the best form of porn out there.
Seriously - it is.
I take the annual catalogue and lock myself in the bathroom for as long as possible (
when you've got a toddler, that's about two minutes
).
I plan on hitting the Ikea this weekend ("
what's that
?" asks SB - you heard me, I'm rushing the Swedes).
I want
this
,
that
,
those things
, and some of those
meatballs
(yes,
Kittenpie
, I go there for the meatballs).
My loins ache for Swedish innovation.
Speaking of Swedish loins:
NO, NO, NO - not those loins, I'm talking about my undies from
tattoo post
. Those are from H&M, another Swedish place that makes me drool.
I go ga-ga everytime I go into that store. Wicked price points! Overwhelming merchandising! Fun accessories! Uber cool toddler stuff! Can you tell I worked in retail for years?
Actually, I was visiting Nadine of
Martinis for Milk
the other day and she pulled out the H&M Fall flyer which made me squeal like a little girl. Seriously. it was so embarrassing, but the fact that she had already picked out a few outfits for Bumper made me super giggly.
*****************************

Wow, I'm grooving on the comments on
the body art post
. LOVING THEM!
I loved reading the inspirations for
Mama Tulip
and
Jennie of GOnelsons
. And I've seen
Kittenpie
's and so I already loved her choice.
It also sounds like many people want at least one done and all I got to say for those who fear the pain: I can't say it's painless but it's more irritating than painful (IMO).
*****************************

So lets see what I learned this week.
Hmmmm...
If I'm your friend,
I'm not to be trusted to carry body parts
if it's required of me. Most family member can breathe easy but I will remind them to stay on their toes (and to not lose any).
I like tattoos
and have wanted one since I was a kid so apparently I could have been a
delinquent, trouble maker
, and
risk taker
.
Yet I chose to develop a
meatball fetish
instead.
So overall analysis of this week:
My parents got off easy (
though I'm not sure they would agree
).
********************************

edited to update the wrong date on the last day to vote (thanks HBM):
This Sunday is the last day to vote on the
BlogHers ACT Canada
enviro-issue
focus ().
Click on the button below to participate in the survey (pretty please) and a huge thank you.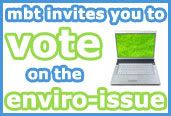 Have a great weekend ya'll.