Edited to add: My Dad just sent an email to correct a grammar mistake (or fifty) in this post. He also may have mentioned
Bub & Pie's most recent post
on grammar in his
scolding
email.
Dudes... I feel twelve.
Thinking of the bad habits I demonstrate on a daily basis to Bumper, I sometimes get really disappointed in myself.
I don't even want to think about how all my under-the-breath mutterings might be impacting her vocabulary.
On days like yesterday – when I've been debating child care and getting frustrated at what is available and then getting mad at myself for a number of reasons and then getting frustrated with the systems…
And then that morphs into silly thoughts like I'm a bad mom for not being able to socialize her enough on my own and then.... oh I won't go on. I will stop with the insecurities. Many of you have heard it in your heads before.
Anyways, on days like that, when all shines crappy through crap-coloured glasses, Bumper will save the day. She will do a little (
but big
) something that reaffirms that I'm doing just fine in the parenting department.
SB announced to B that he was going to take the bags down to the recycling room and asked if she care to join him. Understanding that they we going to go somewhere, she dutifully retrieved her shoes as requested and tried her best to get them on without asking for
'elp
.
Once that was complete, she trooped into the kitchen and lo and behold, grasped the sides of the full recycling bag and tried with all her mini-mouse might to pull that sucker out off the shelf.
It was at that moment, seeing her try to heft that bag, her determination - my heart burst with pride because she understands, in her toddler way, what it means to recycle.
Without words that girl encourages me to try and do better in each and every way.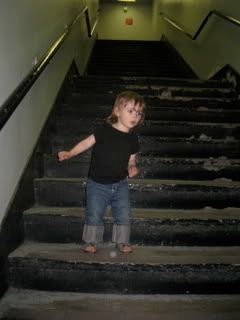 and apparently my contagious dance style has also rubbed off on her

*******************************

POTENTIAL SPOILER ALERT:

If you haven't watched episode 3 of BigBro you might want to skip down to the next section. I'm not revealing much but still, I'm just warnin' ya'
So how about Jen? [
photo source
]
OMG - she is so bonkers, I love her. I hate her. I know her. I love to hate her.
I hope they keep her around for a few more weeks (
though please don't let her make it too far
) - she is so entertaining. And sad. And has full of train wreck potential. I mean, isn't that what Big Bro is all about? Train-wreck spotting? She is insane, she has an overactive imagination, distorted self-image, balls, an inability to admit anything, and I don't think she's all that bright. And the personalized shirts! OMG! Jensa?
And the crying over
the photo
? Jealousy of Daniele? That was either pure genius to make the others think she is incredibly phony or she really is that superficial. Unfortunately my spidey sense tells me she's a bit vacant but my cynic radar says it's an act.
Whatever it is, it's entertaining. And sad. And I can't stop watching.
END OF POTENTIAL SPOILER ALERT
***************************
Moving right along....
I have a new review up over at
motherbumper's laboratory
, it's a new pregnancy reference book that tackles the body and soul, written by a doctor and specialist in integrative medicine. An interesting read if you are thinking about becoming or currently are pregnant. There are some great exercises and topics concerning self-analysis and reflection in the book.
Also, have you participated, read about, or thought about a cause for the
BlogHers ACT: Canada project
?
The deadline is coming soon and I'll be posting soon about my cause soon.
That is all folks, Happy Thursday y'all.